Kohra is a vortixx terrorist for The Makuta.
Kohra

Species:

Vortixx, female.

Alignment:

Chaotic Evil.

Weapons/Tools:

Feathered glove (2012 Arc), Makuta's Whispers.

Powers:

Sharp mind and alluring figure, telekinetic and air-slashing attacks from glove (2012 arc).

Occupation:

Terrorist and saboteur.

Group:

The Legacy.

Creator:

Vezok's Friend.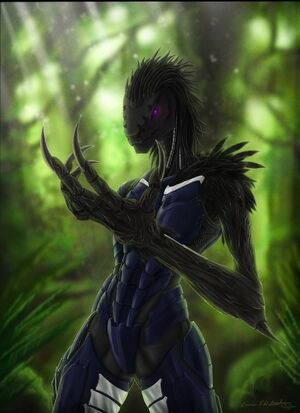 Biography
Edit
Awoke in a cavern in Ko-Wahi.  A strange feathered glove covered her left arm, and the whispers of a dark voice lingered in her mind.  Kohra had become an amnesiac.
Following the whisper's direction, who had identified itself as The Makuta, Kohra poisoned the water in Po-Wahi.  
In search of the explosives for her next act of terrorism, Kohra followed the whispers to Le-Wahi.  There she met the ex-fireworks maker Draeverian Joskiir.  
Draeverian provided the materials under force and accompanied her to Onu-Wahi.  He was unable to stop Kohra's scheme and the terrorist bombed the Great Mine of Onu-Koro.  Afterward she left for Ko-Koro to lay low.  
While in Ko-Koro Kohra plotted her next attack, weakening the integrity of the glaciers above the village.  
On the eve of her plan in Ko, Kohra was discovered by Draeverian and two companions: onu-toa Mariko of the Aitua, and de-toa Atvin.  Using Draeverian's anger the terrorist pushed her sabotage forward, his rash elemental attack unwittingly facturing the weakened glacier and destroying a small portion of Ko-Koro.  
Kohra broke out of prison after injecting herself with antidermis, regaining her lost powers and abilities.  
Appearance and Tools
Edit
Kohra was a seductive vortixx, with a lethal coo to her voice.  She wore dark blue armor over her black body and hate purple eyes.
Community content is available under
CC-BY-SA
unless otherwise noted.