"What does being a Matoran have to do with anything? I am a Matoran. Most of this island's population are Matoran. Most of the Ussalry's members, our only peer in guard effectiveness, are Matoran. And yet, they have taken down Toa routinely. There are courses taught on this. I personally have defeated Toa before. One Matoran, with the correct training, can easily defeat a Toa."
— Jaller
Jaller, Akiri of Ta-Koro



Species:

Ta-Matoran

Element:

Fire (Innate)

Kanohi Mask:

Yellow Hau

Alignment:

Weapons/Tools:

Bamboo disk, guard spear, authority

Occupation:

Akiri, Captain of the Ta-Koro Guard

Creator:

LEGO
Jaller is the Akiri of Ta-Koro.
Biography
Edit
Jaller served much of his life in the Ta-Koro Guard , and at one point was appointed Captain of the Guard, a position he served faithfully in for many years.
Following Turaga Vakama's assassination, Jaller was appointed Akiri of Ta-Koro.
Personality
Edit
Jaller possesses a strong sense of right and wrong. He is even willing to admonish his authorities when he recognizes an obstruction of justice. After being appointed the Akiri of Ta-Koro, Jaller's grim personality has become more intense.
Appearance, Weapons and Powers
Edit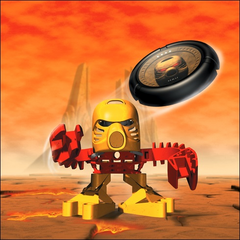 Appearance
Edit
Jaller is a red and yellow Ta-Matoran.
Relationships
Edit
Friends and Allies
Edit
Other Akiri
Ta-Koro Guard
Complicated
Edit
Tuli: The two don't like each other, due to Tuli's hot temperament and Jaller criticizing her job performance.
Akiri Jaller is played by The Snark Knight.
Community content is available under
CC-BY-SA
unless otherwise noted.