Gavarm

Gavarm's bust

Species

Matoran of Earth

Gender

Male

Powers

N/A

Abilities

Astute Night Vision and Vibration Sensitivity; High Strength; Excellent Fencing; Skill With Common Weapon Types; Grappling Proficiency

Weapons and equipment

Lance, repeating crossbow, saperka, three arming swords, longsword, shield, stakes, rations for one week

Alignment

Chaotic Neutral

Affiliation

Gyn Kirsug

Status

Alive
Gavarm is an Onu-Matoran and member of the Onu-Koro Ussalry. He is currently Colonel of the Ussalry's Heavy Cavalry Regiment.
Fighting Style
Edit
As shown during the Rama Hive Assault, Gavarm's preferences in combat best suit a rapid assault featuring multiple blades.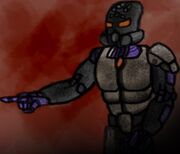 Biography
Edit
Early Life
Edit
Gavarm materialized under the name "Onuvarm" as the heir to a sprawling corporate empire. From his start, he was restless, constantly seeking to know all he could. At some point, Gavarm attended an institute of higher education.
"Thank you." [Pause.] "You've rendered an inestimable service to us all. By collecting that information, you have furthered our interests so that we might proceed." Then one more pause. "Salvation is at hand, Gavarm. Remember that."
"Indeed." --Gavarm and Gyn
Relationships
Edit
Gyn Kirsug
Edit
Gavarm loves Ga-Koro, a rare trait for an Onu-Matoran.
He is musically inspired by ZZ top, though his décor was written with McTeague in mind.
Gavarm is the only former member of Ussalry Seventh Squadron who has ascended in rank since Kol Uskey's kidnapping.
Gavarm was originally played by Mef Man.
Community content is available under
CC-BY-SA
unless otherwise noted.